The New York Review of Books
———————————— Photography by JENNIFER LIVINGSTON
Last year, a long-time RC collaborator - the artist, writer, professor, and editor Leanne Shapton - joined The New York Review Of Books as its first-ever art editor. Bringing her effervescent eye to the magazine, Leanne created one arresting, dynamic cover after the next. Her ability to join a painting, elegant type, and brilliant cover lines together on newsprint speaks to our core as designers. Mixing content, aesthetics, provocation, and purpose always makes for an interesting collection. We had an idea to collaborate: to use The New York Review Of Book's beautiful covers on RC clothes.
We selected five covers, wanting to use the work of five different artists with the cover lines announcing the articles and reviews by the NYR's writers therein.
For each garment, we cropped and rearranged the covers for design purposes and a certain abstract legibility. We liked the idea of current events, books and writers' bylines being a part of the literal fabric of our clothes. We used the covers more as textiles and patterns, less as a branding exercise or merchandise.
In 2019, Emily Greenhouse, then 32, became The New York Review Of Books editor and she has brought new, diverse voices to its 60 yr-old pages and perspectives. As a fashion company interested in politics, movements, civil rights and the arts, the content of the magazine has never been so relevant to us or our customers. The NYR is a locus for these issues, and it feels important to champion discussion and to bring into our own work the nuance, debate, and opinions that the Review covers. Shapton's covers bring an urgency and aesthetic appeal to the traditionally newsy and thoughtful content I subscribe for— at RC, we like the contrast between literary, political and fashionable.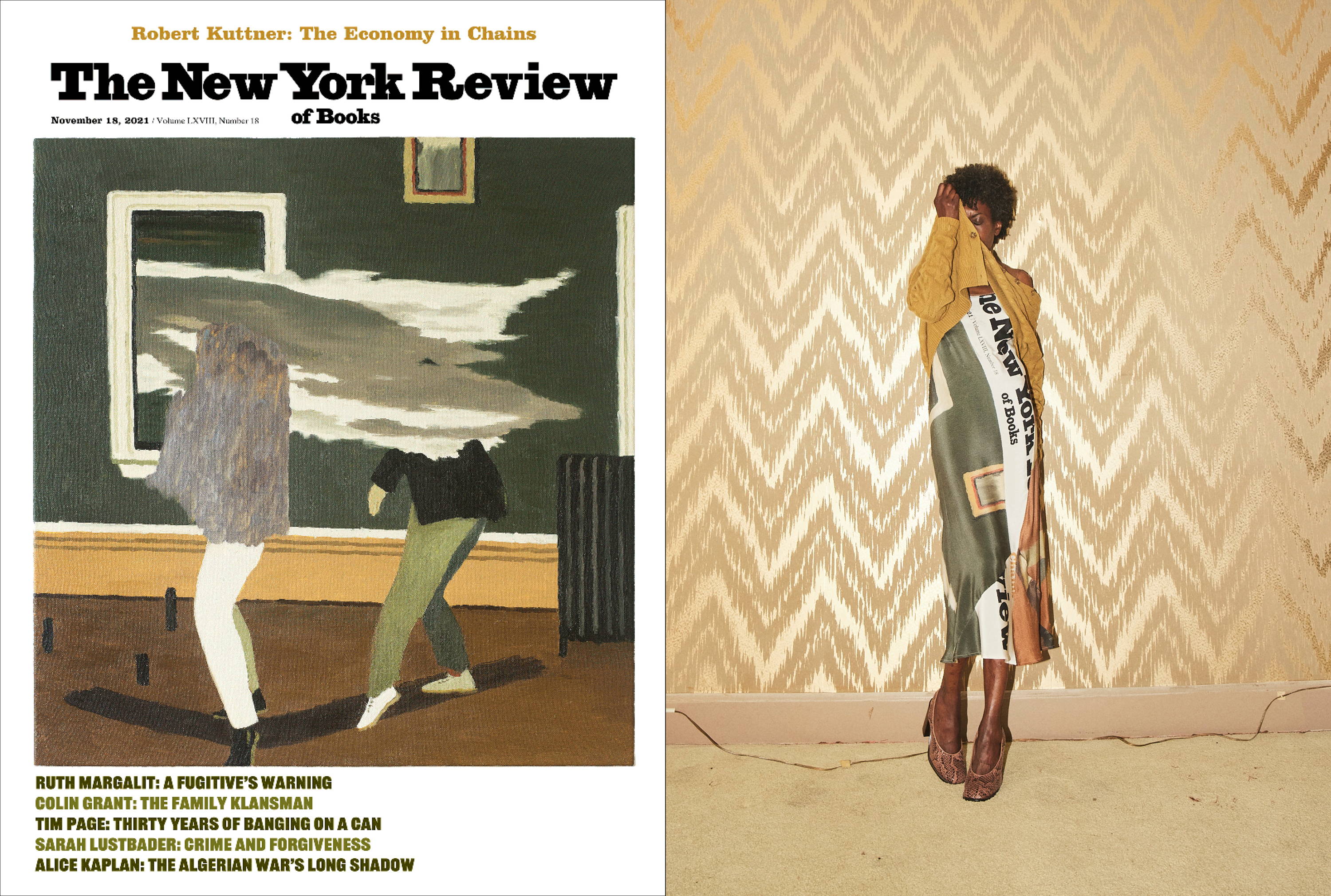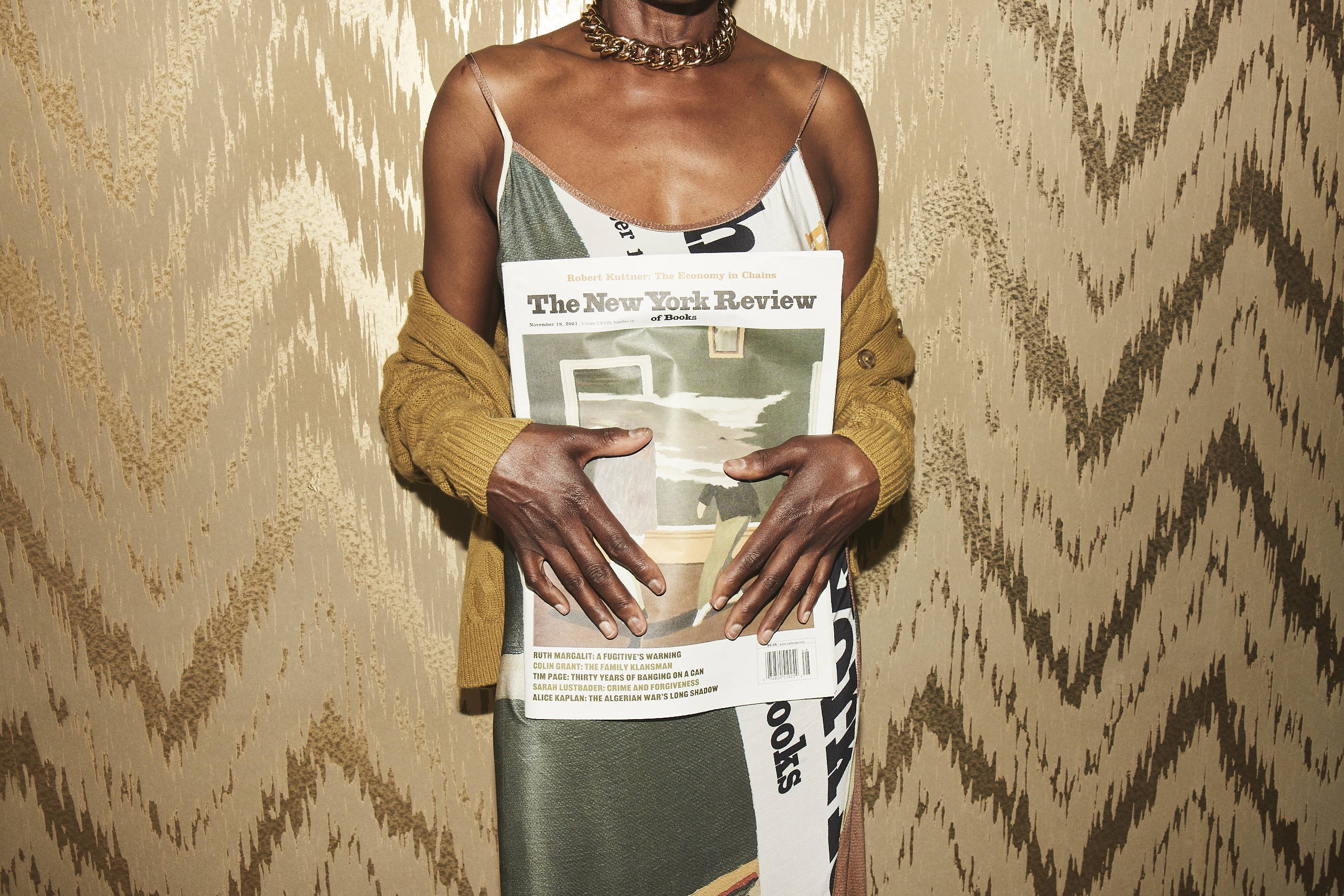 The November 18, 2021 cover featured Open Window by GREG BURAK and announced pieces by the writers Ruth Margalit, Tim Page, Sarah Lustbader, Alice Kaplan, and Robert Kuttner.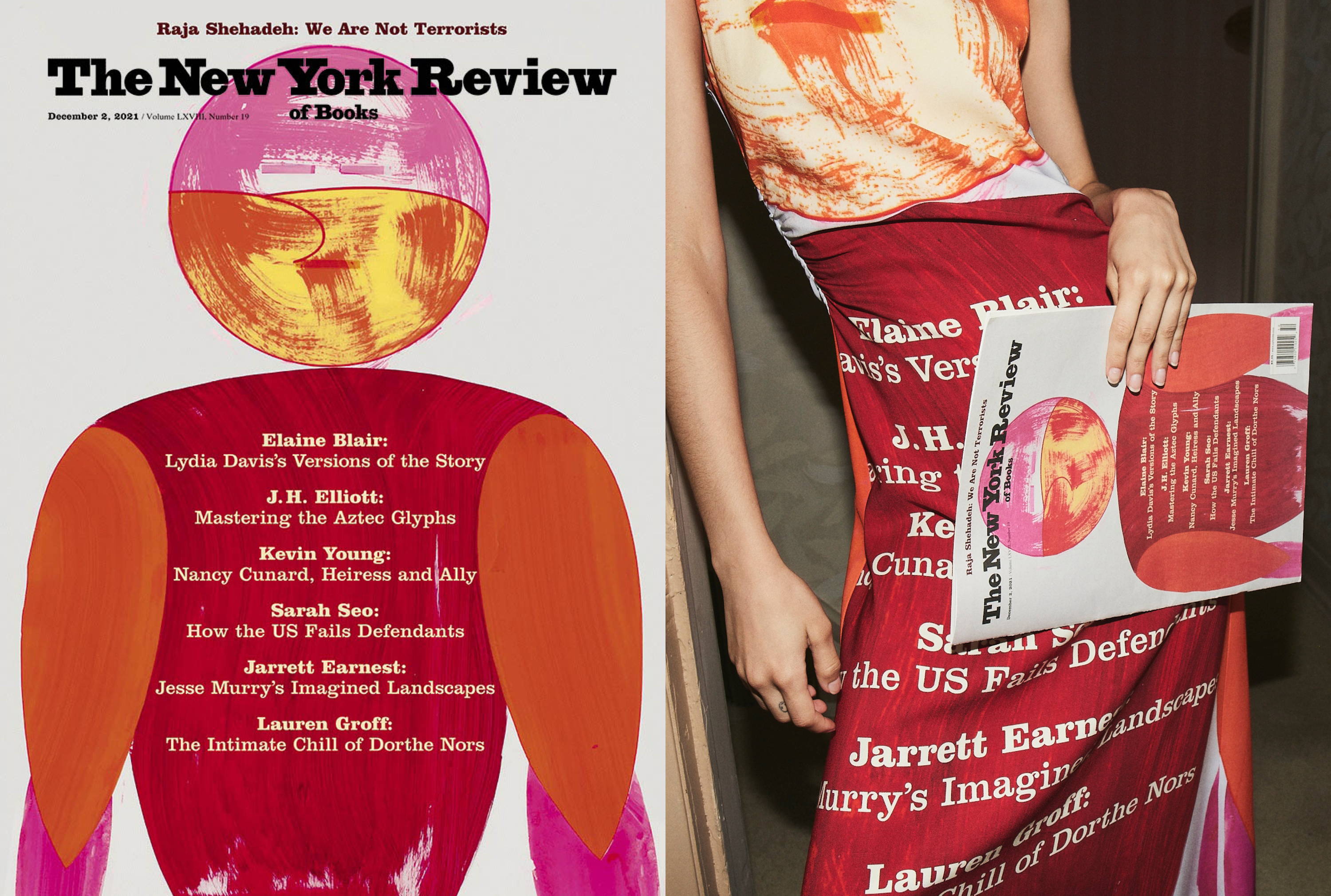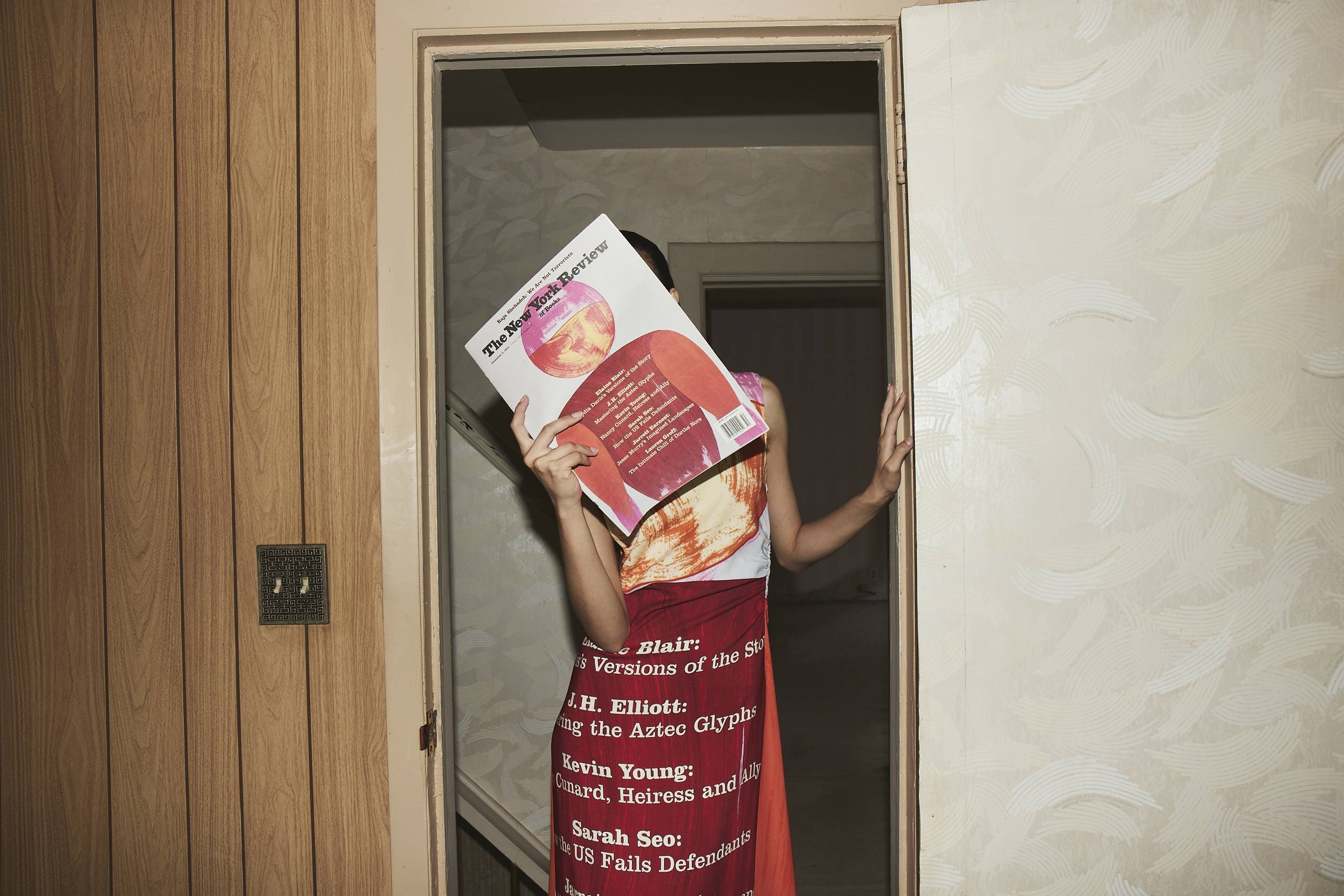 The Dec 02, 2021 cover featured Red Man by YUICHI YOKOYAMA and announced pieces by the writers Elaine Blair, JH Elliott, Kevin Young, Sarah Seo, Jarrett Earnest, and Lauren Groff.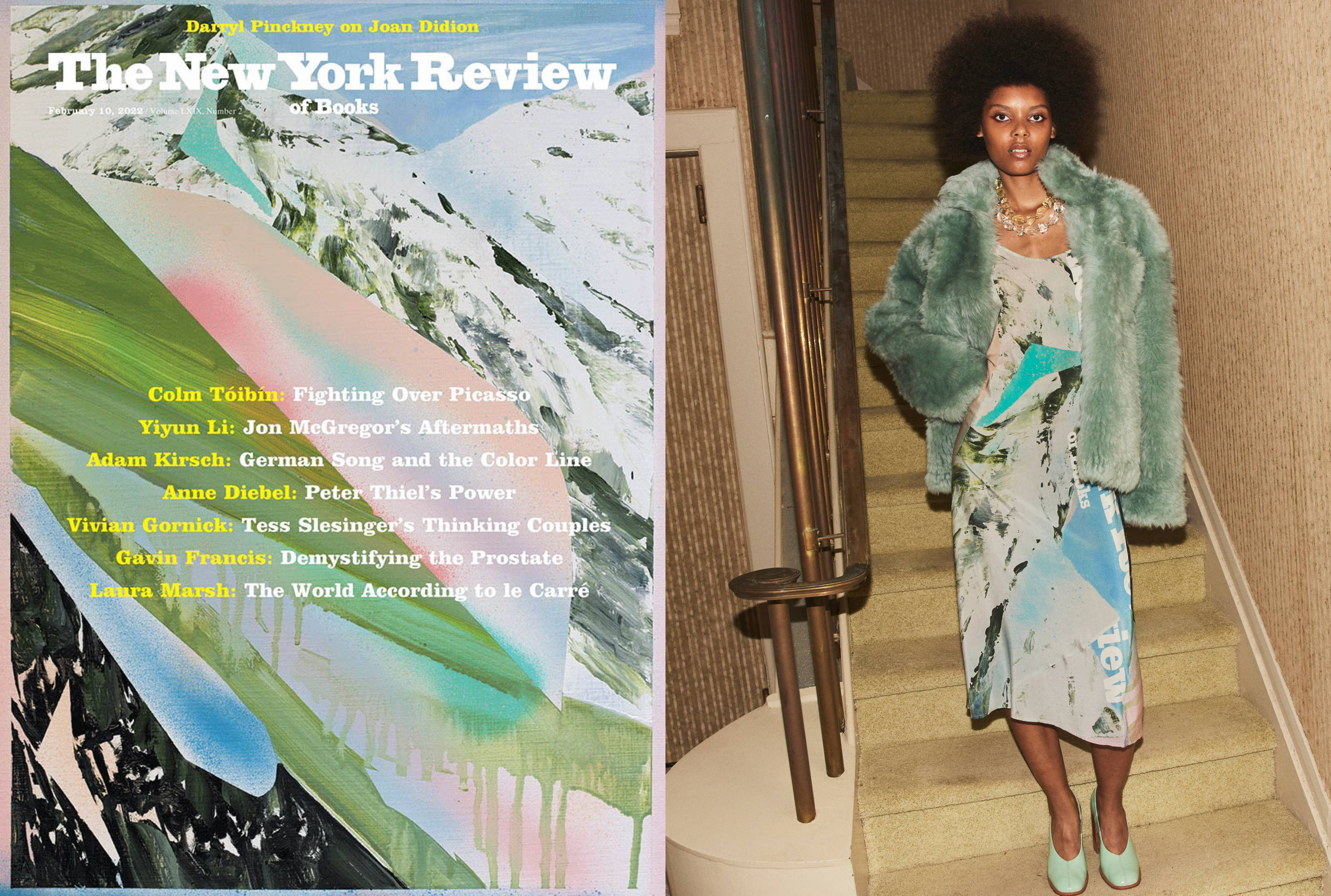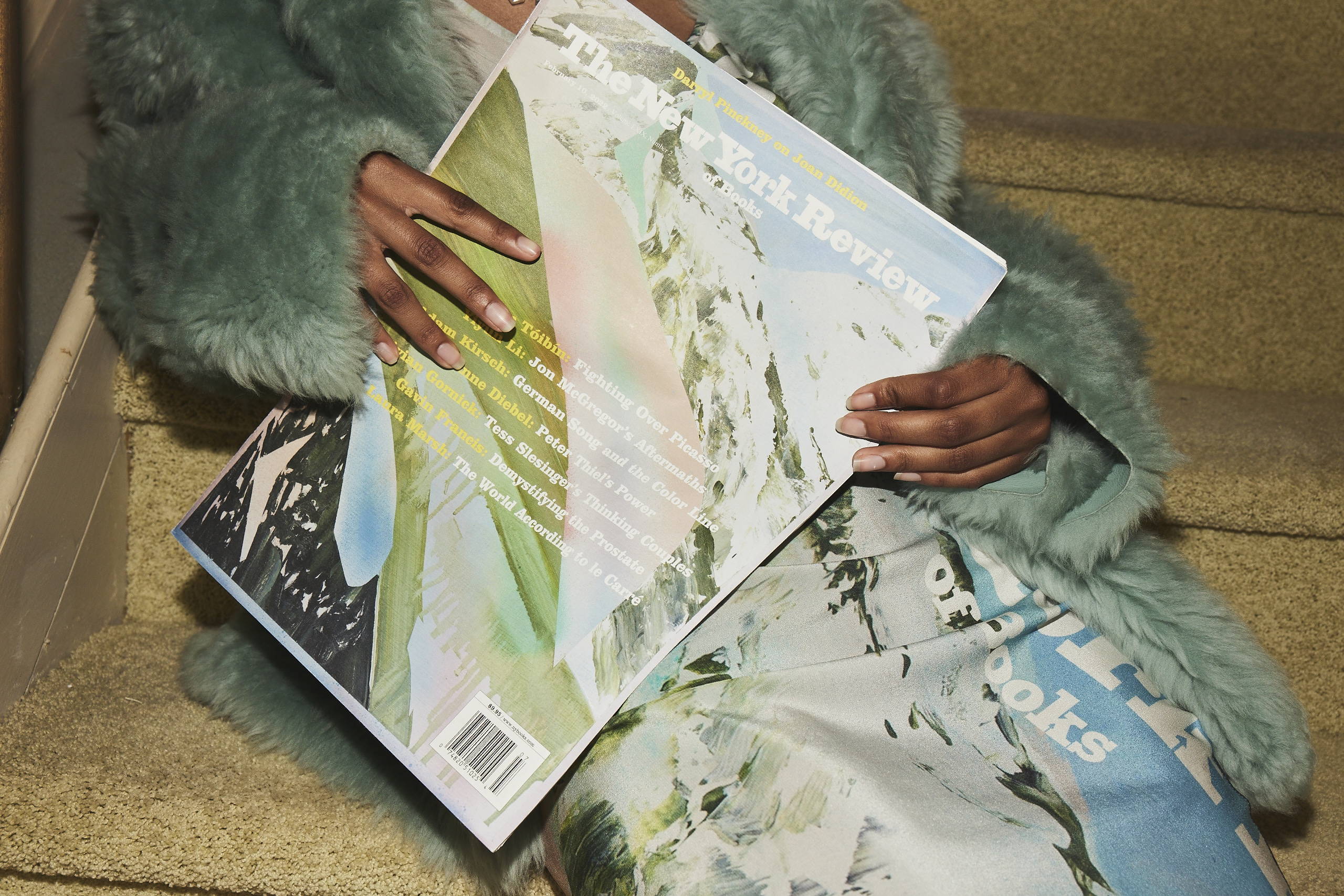 The February 10, 2022 cover featured Mountainside by UNA URSPRUNG and announced pieces by the writers Colm Toibin, Yiyun Li, Adam Kirsch, Anne Diebel, Vivian Gornick, Gavin Francis, Laura Marsh, and Darryl Pinckney.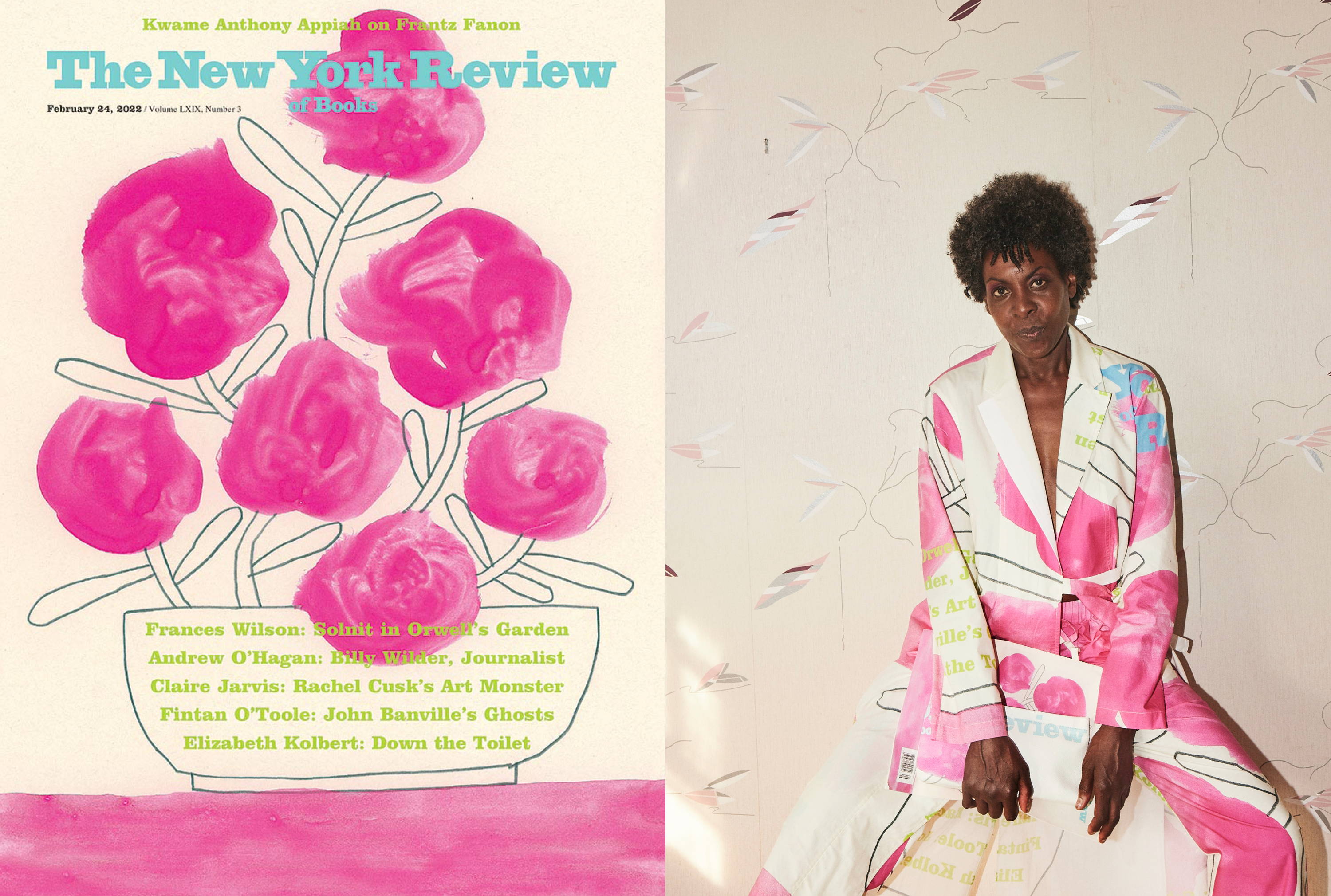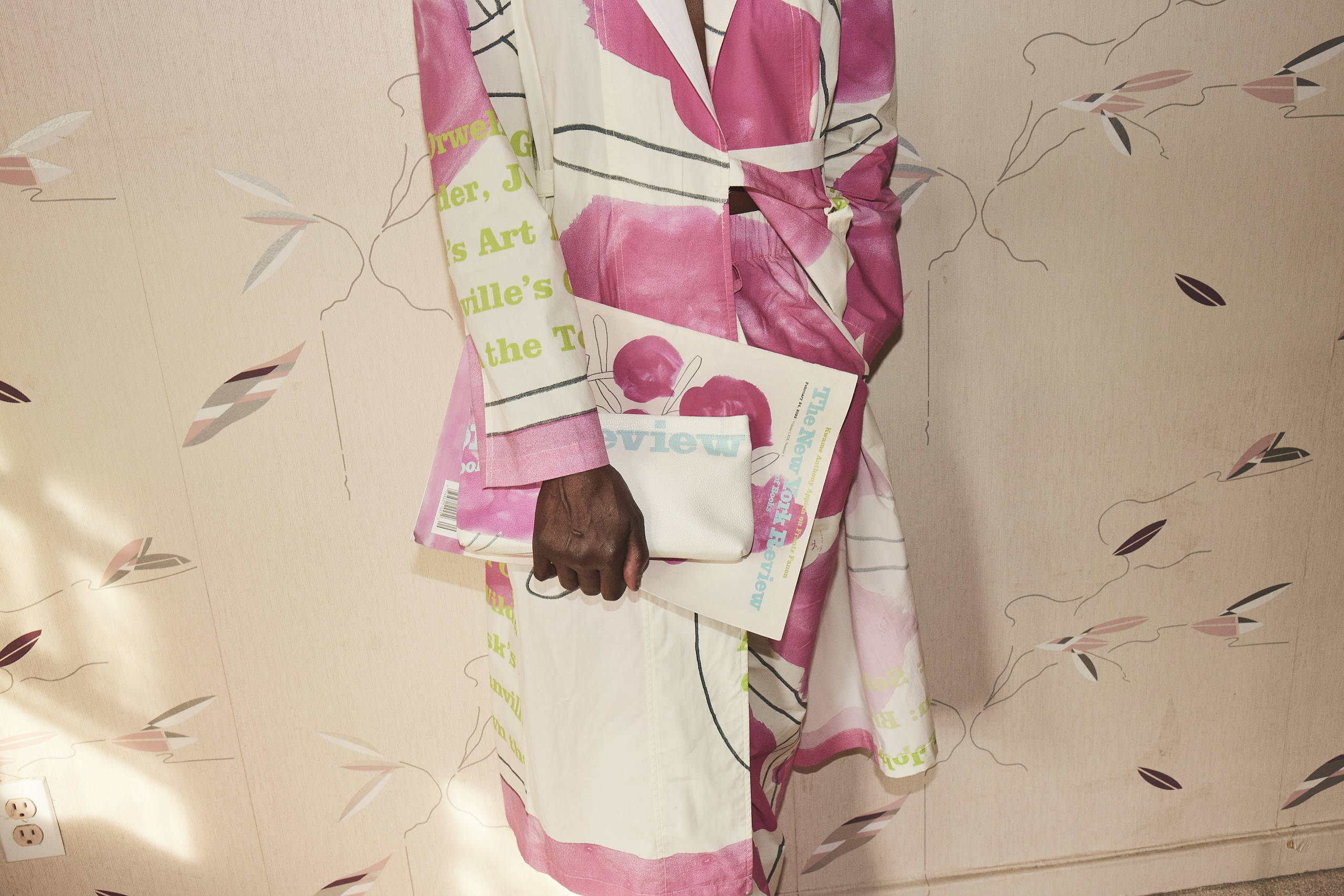 The February 24, 2022 cover featured Pink Flowers by TUCKER NICHOLS and announced pieces by the writers Frances Wilson, Andrew O'Hagan, Claire Jarvis, Fintan O'Toole, Elizabeth Kolbert, and Kwame Anthony Appiah.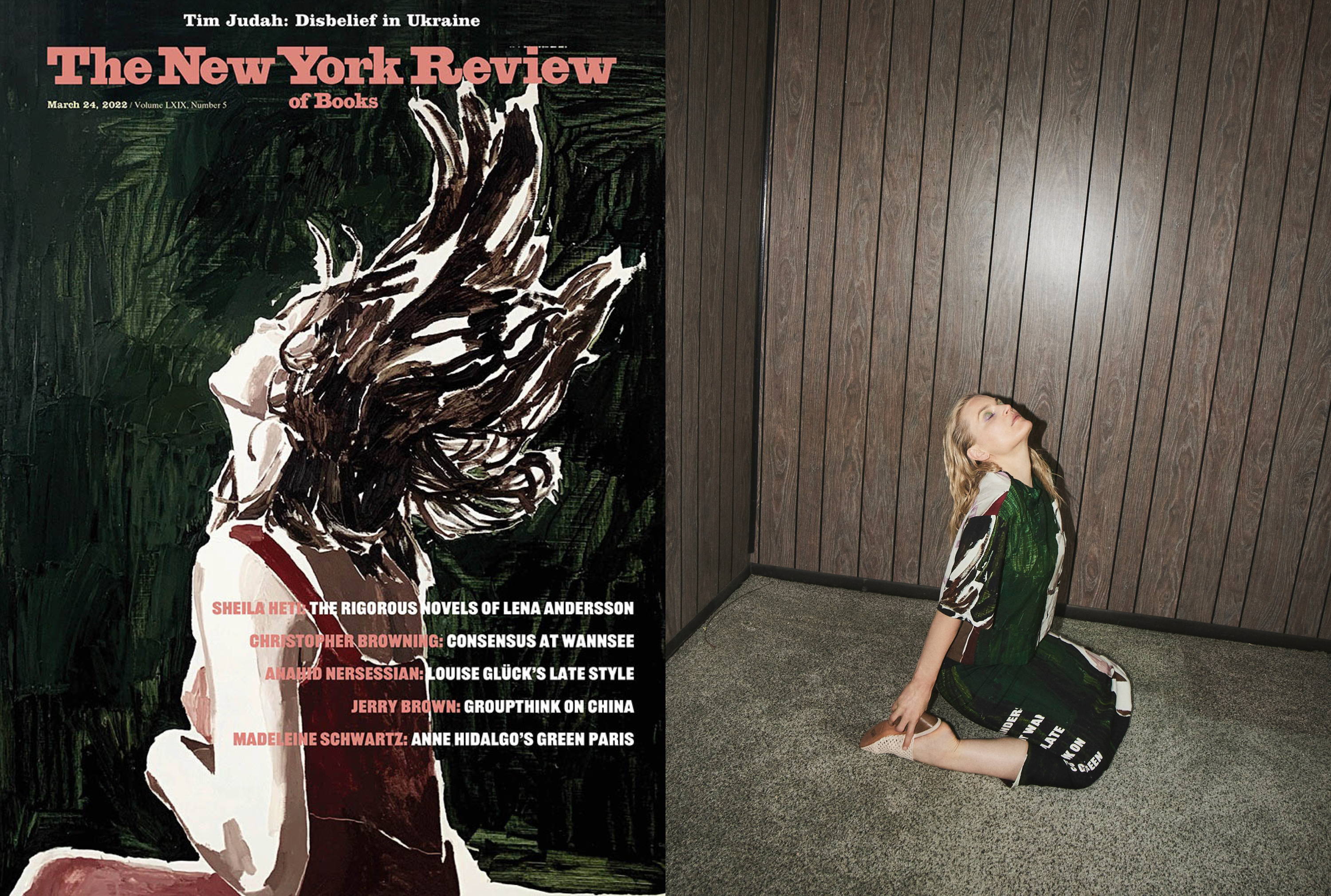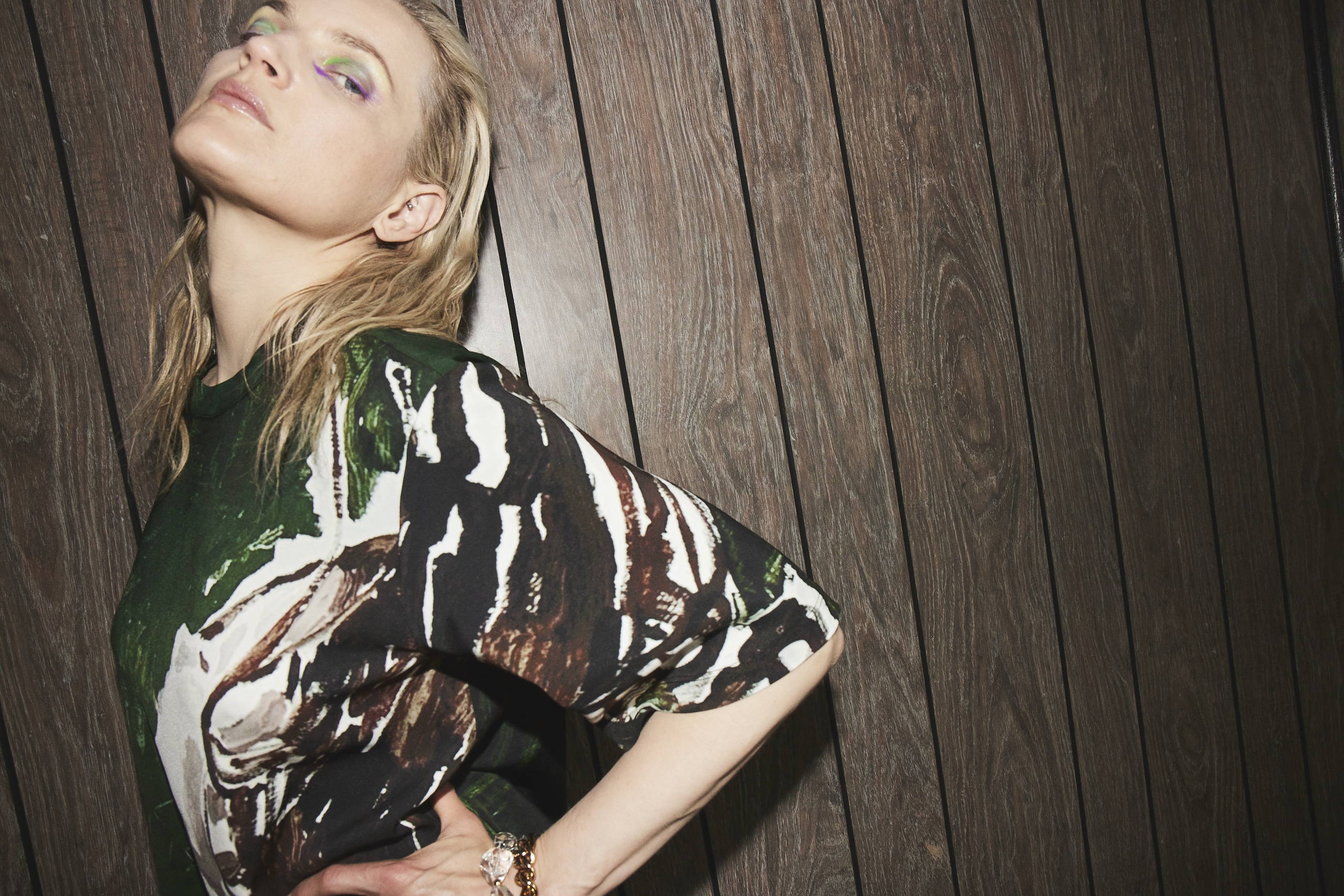 The March 24, 2022 cover featured Hairflip by CLARA ADOLPHS and announced pieces by the writers Sheila Heti, Christopher Browning, Anahid Nersessian, Jerry Brown, Madeleine Schwartz, and Tim Judah.